Frank Erwin Center | Austin, Texas
If you're a fan of Panic! At The Disco then get ready for a treat!! Brendon Urie is back with his incredible new musical-theatre influenced album and he's taking it on tour across the United States! Are you ready to catch Panic! At The Disco LIVE on Friday 8th February 2019 at Frank Erwin Center?? Get your tickets NOW while they last!!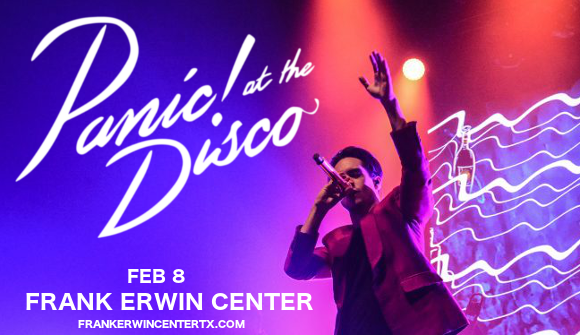 Formed in 2004 by Brendon Urie, Ryan Ross, Spencer Smith and Brent Wilson, as of 2015 Brendon Urie is the band's only official member, touring with guitarist Kenneth Harris, drummer Dan Pawlovich, and bassist Nicole Row. Recording their first demos in high school, Panic! At The Disco released their first album, "A Fever You Can't Sweat Out" in 2005 and achieved Platinum certification thanks to the enormous popularity of "I Write Sins Not Tragedies," and were catapulted to the forefront of the decade's pop punk scene. In recent years, Brendon Urie's style has leaned more towards musical theatre.
Panic! At The Disco are on tour in 2019 with their latest studio album, "Pray For The Wicked," released in summer 2018 to massively positive reviews. "Panic! have never released the same album twice," raved the Independent, "But on Pray For The Wicked it feels as if they've finally managed to channel that frenetic, slightly chaotic attitude into a studio album that is at once eclectic and coherent."
Get ready to be one of the first to hear the new songs in concert – grab your tickets TODAY!!