Frank Erwin Center | Austin, Texas
British indie icon and former Smiths frontman Morrissey is headed to Frank Erwin Center on Friday 20th September 2019 for one night only! The eminent singer is touring to promote his upcoming album, California Son, which sees him perform a variety of covers of artists from the '60s and '70s, so fans will get the chance to enjoy a new side of Morrissey! Not only that, but joining him in support are post-punk three-piece Interpol!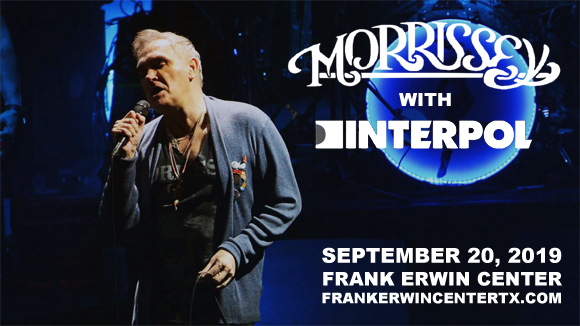 First coming to fame in the 1980s as the lead singer and principal lyricist of the Smiths, English singer, songwriter, and author Morrissey is also a noted solo artist. Coming to public attention with the release of their eponymous debut album in 1983, the Smiths attracted a cult following with the help of Morrissey's witty and satirical lyrics, distinctive baritone voice and outsider charisma. After the group disbanded in 1987, he released his debut solo album, Viva Hate (1988), which was a critical success and reached number one on the UK charts. Morrissey has released elven studio albums to date, as well as an autobiography and a novel. In a 2006 poll for the BBC's The Culture Show, he was voted the second-greatest living British cultural icon. Morrissey's twelfth solo studio album, California Son, will be released in 2019.