Frank Erwin Center | Austin, Texas
We all know, time and time again, that the world needs love more than ever. One of the greatest expressions of love is through love songs. Michael Buble is the voice of this generation that has rekindled and inflamed our hearts with nothing but good old-fashioned love songs, merging his self-penned original jazz and soul-inspired pop with unique renditions of classic tunes. "An Evening With Michael Buble" brings Buble back on the road with an invigorated passion and commitment to being a conduit for the love, romance and great sense of humor. Michael Buble is all set to shower the audience with his love potion at the Frank
Erwin Center on Sunday 5th April 2020. Friends, family, loved ones–this is your chance to be together and spend "An Evening With Michael Buble" . Book your tickets now!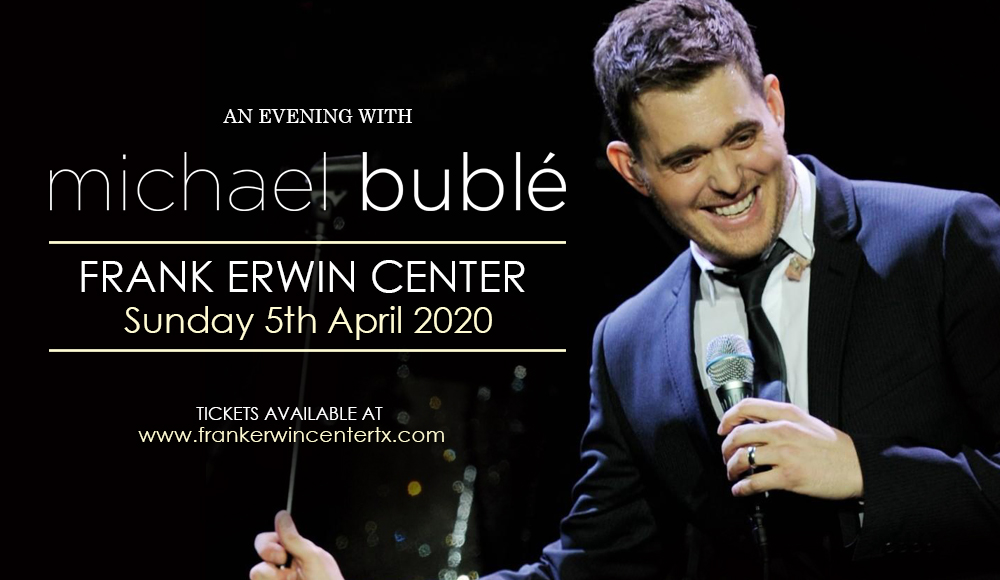 When Michael Buble exploded into the mainstream in 2005, everyone was quick to hail him as the Frank Sinatra incarnate. His crooner singing style, his handsome and gentlemanly swagger, and his refreshing renditions of standard pop classics, Buble was a breath of fresh air that rekindled music lovers' affair with those good old-fashioned love songs.
Bublé's 2009 album "Crazy Love" debuted at number one on the US Billboard 200 in a mere three days after its release, and held on strongly at the top spot for two weeks. It was also his fourth number one album on Billboard's Top Jazz Albums chart.
But prior to that, Buble has his share of paying his dues, so to speak, singing in numerous jazz clubs, small local gigs, and weddings. Yes, his being a wedding singer set the stage for his impending stardom. One wedding guest who spotted his talent was none other than mega star songwriter and album producer David Foster. Foster was at first, reluctant to sign Buble. But as soon as he took him under his wing, Buble flew and soard to the top!
Bublé has sold over 75 million records worldwide, and has several awards to his name, including four Grammy Awards and multiple Juno Awards. He has performed to sell-out crowds in some of the world's most prestigious concert halls and arenas.
Delight in Buble's evening of seranading his audience with all-time favorites from the 'great American Songbook', as well as Buble original hits. "Feeling Good," "Haven't Met You Yet," "My Funny Valentine," "I Only Have Eyes for You," "Sway," "Such a Night," "(Up A) Lazy River," "When You're Smiling," "Fly Me to the Moon," "You're Nobody Till Somebody Loves You," "When I Fall in Love," "Love You Anymore," "Forever Now," "Home," "Buona Sera Signorina," "Just a Gigolo"/"I Ain't Got Nobody," "You Never Can Tell," "Save the Last Dance for Me," "Nobody but Me," "Cry Me A River," "Where or When," "Everything" and "Always on My Mind," are just some of the songs you'd hear live.
A must-see, absolutely enjoyable experience for someone who truly loves music. Get your tickets now!