Frank Erwin Center | Austin, Texas
Marvel fans young and old are invited to see their favorite superheroes and villains in action at Marvel Universe Live! Coming to Frank Erwin Center on Sunday 26th August 2018, Marvel Universe Live! is a thrilling stage show which follows Thor, Hulk, Captain America and over 25 other beloved Marvel characters as they battle for the safety of the universe!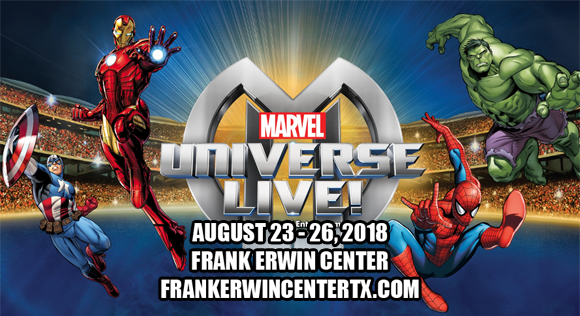 In a battle for a source of ultimate power in the Marvel Universe, the Cosmic Cube, Earth's Mightiest Heroes are put to the test… Smashed to pieces by Thor in order to keep it out of the wrong hands, the Cosmic Cube is now buried in various locations around the globe. Join Thor, Captain America, Iron Man, Hulk, Spider-Man and Wolverine as they use their superhero strength and cunning to keep the Cosmic Cube safe from their many foes (including Loki, Red Skull, Green Goblin, Doctor Octopus, Madame Hydra and more) and their evil goal of world domination! With over 25 heroes and villains battling for the fate of the universe, this incredible live show is fun for all the family!