Frank Erwin Center | Austin, Texas
The hilarious mind that brought you "Freaky Friday" (ft Chris Brown), Lil Dicky, comes to Frank Erwin Center on Thursday 25th October 2018 on his Life Lessons Tour for a night of sick rhymes and, of course, wisdom on a variety of subjects from the man himself! Fusing the ability to spit fire (metaphorically) with belly-laugh-inducing comedy and the perspective of the everyman, Lil Dicky is a treat to see live! Don't miss your chance to see this chart-topping rapper hold forth on a range of subjects including cooking, women, men, sports, and skin care routines!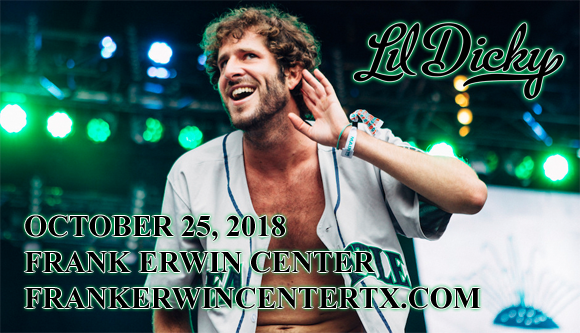 American rapper and comedian Lil Dicky began his rap career in 2013, originally as a way to get into comedy. He released his debut mixtape, So Hard, in 2013, releasing one song a week for five months straight; the culmination of two years' work. The music video for the mixtape's lead single, "Ex-Boyfriend", became an almost instant viral hit, receiving one million views within 24 hours of being posted on YouTube. The rapper then went on to release a series of songs and music videos titled Hump Days, eventually releasing 32 songs and 15 music videos in 2013 alone. Lil Dicky's debut album, Professional Rapper, was released on July 31, 2015, and features artists Snoop Dogg, T-Pain, Rich Homie Quan, Fetty Wap, Brendon Urie (Panic! at the Disco), RetroJace and Hannibal Buress. The video for Lil Dicky's 2018 single "Freaky Friday", featuring Chris Brown, also went viral, reaching over 100 million views, and the single topped the charts in both New Zealand and the United Kingdom.