Frank Erwin Center | Austin, Texas
Emo kids get your hands in the air – FALL OUT BOY are on tour in 2018 with their fresh new album "Mania"!! Joining them on the road are the amazing Machine Gun Kelly. Get your tickets NOW to see them at the Frank Erwin Center on Sunday 23rd September 2018!! Tickets are already flying so don't miss out – get yours quick, before they go!!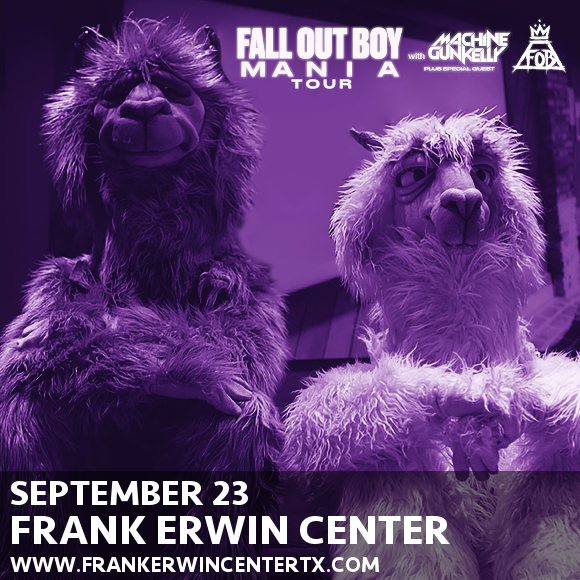 Since their debut album, "Take This to Your Grave," Fall Out Boy started to make their mark upon the underground punk scene, and with their first major label album, "From Under the Cork Tree" gained worldwide fame and recognition. Since then, Fall Out Boy have enjoyed a highly successful career, with a plethora of hit singles, multiple number 1 albums, and stardom status!! Their most recent album, "Mania," marks their seventh, the first since 2015's "American Beauty/American Psycho".
"The world can be a big lonely place, especially for kids who are trying to figure themselves out," bassist Pete Wentz said, regarding the direction behind the latest album. "I think sometimes we can forget that… that's who Mania is meant to speak to. That's who I want to reach. I don't think that kids should feel like they need to adjust their empathy or selves to the world – I'd rather give them the belief that they can adjust the world to fit their empathy.'
We can hardly wait to hear all the new songs live!! What are you waiting for?? Hurry and grab those Fall Out Boy tickets NOW!